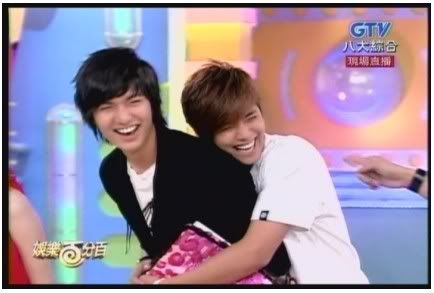 Greeted by more than a hundred fans on the airport, the stars of Boys Over Flowerscertaily are making a big hit in Taiwan. Lead actor Lee Min Ho together with Gu Hye-sun made an impact on their press conference held in Taiwan.
However, the spotlight was on Min Ho, who was compared to Taiwan's f4 leader,Jerry Yan, by host Xiao Xian.
Xiao Xian is currently filming a drama with Jerry and he states, "I feel that you are much friendlier than he is."
Fans have reacted during the conference as the host continued to compare Lee Min Ho to Jerry, whom I agree shares the same pearly white smile; they say, "Lee Min Ho is better looking."
Regardless of Min Ho's attractiveness, he says that he agrees that he shows resemblance to the actor/singer and is hoping that one day they'd be able to meet. He also admits that he didn't watch Taiwan's version of the manga, Meteor Garden, as he was careful not to affect his performance to the drama. Hye-sun also shares that although the Korean version of the drama originated from the Japanese Manga, the story line have been changed.
The two are doing well with their promotions of the said drama and are have received an overwhelming response from the fans.
credits: seoulbox